Sandalwood and Mint Underbalm Silver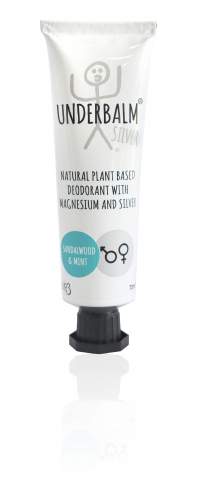 Subtle with a touch of mint, this popular flavour is now available in Underbalm Silver!
Underbalm Silver is innovative, unique in NZ and developed by No3 Ltd. This is a premium product powered by Silver and Magnesium. It's a water-based emulsion or cream, so it looks and feels just like a moisturiser. It's completely different to the original Underbalm, and any other deodorant pastes found in pots.
Underbalm Silver works by neutralising odours and it is also antimicrobial, so it kills bacteria that create bad smells.
Ingredients: Aqua (water), Ricinus communis (castor) seed oil, Caprylic/capric triglyceride, Butyrospermum parkii (shea) butter, Magnesium hydroxide, cetearyl olivate, glycerol, sorbitan olivate, sodium lactate, cetyl alcohol, stearic acid, Euphorbia cerifera (candelilla) wax, citric acid, gluconolactone, sodium benzoate, xanthan gum, essential oils, silver citrate, tocopherol (vitamin E).
70ml