Skincare
No3: Natural Skincare for the Entire Family
There's no substitute for premium natural skincare. Products such as moisturisers, deodorants, and soaps can be natural, gentle, and effective; and at No3, that's exactly how we design them.
The Importance of Vegan plant-based and Natural Skin Care Products
Plant-based everything is all the rage right now, but it's more than just a passing trend. Vegan products are growing in popularity exponentially as more and more consumers learn about their considerable benefits. Here are some excellent reasons to switch to vegan skincare products today.
They're suitable for all skin types. Because we don't test our vegan products on animals, they contain only natural, safe ingredients. These products are much gentler on the skin than the harsh, artificial chemicals found in so many commercial products. Also, because vegan products tend to be gentler, they are often an excellent choice for individuals with skin conditions such as psoriasis and eczema.
They have MINIMAL side effects. Because of the natural, plant-based ingredients found in vegan skincare products, they rarely cause troublesome side effects. These products contain plant-based ingredients chosen for their ability to hydrate, nourish, and protect your skin – shouldn't irritate the way harsh chemicals can. Even people with sensitive skin often find that they can use our vegan products with no trouble at all.
Best of all, our vegan skincare products offer all these advantages with no compromise when it comes to quality and effectiveness. These products provide excellent cleansing, soothing, and anti-ageing effects without harsh chemicals, proving that there's no need to fall for mass-produced commercial skincare products.
Common Mistakes People Make Regarding Their Skin Care in NZ
Whether your skincare regimen is 30 seconds in the morning or you engage in a complex pre-bedtime ritual, the chances are that you at least have some routine that you follow. We all have the best intentions when it comes to caring for our skin, but sometimes, we can sabotage ourselves without realising it. Here are a few common skincare mistakes to avoid for healthy, glowing skin.
Leaving your skin bare after cleansing. It's important to use a moisturiser immediately after washing your face. After you cleanse your skin, the air almost immediately begins to suck moisture out of it. It's best to perform your skin care routine quickly so that your skin doesn't remain bare for too long. Cleanse first, then follow that with a natural moisturiser such as our organic facial cream.
Using products formulated for the wrong skin type. Whether you are looking for a makeup remover, moisturiser, or facial oil online, it's necessary to choose one that's compatible with your skin type. When you shop No3, you'll find natural, organic products made with all skin types in mind, so you can shop with confidence that you're getting a product that will support your healthy, beautiful skin, no matter what type it is.
Treating your blemishes incorrectly. Almost everyone deals with breakouts sooner or later. Unfortunately, many people handle it the wrong way – by picking at blemishes or using harsh treatments. These actions will result in blemishes that last longer and possibly even leave scars. It's important to treat acne gently, with natural products that won't make the problem worse but encourage your body's natural healing processes.
Exfoliating too much, too often. Some people seem to have the belief that, when it comes to exfoliating, more is better. These individuals think that if it's not burning or stinging, it can't be working. In fact, all that exfoliating may be doing more harm than good. Don't make the mistake of damaging your skin by treating it too aggressively. Exfoliants should be kept to a minimum and always accompanied by a gentle moisturiser to help your skin repair itself.
Benefits of the Ingredients in Our Facial Oil in NZ and Other Skincare Products
At No3, we carefully select each ingredient that goes into every product we formulate, to ensure that our skincare products are safe, natural, and good for your skin. Here are a few of the special ingredients we use and why they matter.
Macadamia oil. Macadamia oil is a lightweight oil that is easily absorbed with no greasy feeling. It's rich in monounsaturated fatty acids, which are very moisturising and promote skin softening and regeneration. This oil also has important anti-inflammatory properties that help your skin look its best and stay its healthiest.
Cucumber extract. Think of cucumber extract as a superfood for your skin. The juice of the cucumber is made up mainly of proteins, lipids, vitamin C, and essential minerals, and it also features moisturising properties. Cucumber extract has an astringent effect, soothing and relieving puffy skin as well. It's also extremely gentle, even on the most sensitive skin.
Marshmallow root extract. Marshmallow root is an anti-irritant that's suitable even for people with extremely sensitive skin and allergies. This substance is known to offer relief from inflammation, itching, and redness thanks to its soothing properties. It is especially beneficial in skincare products designed to treat dry skin and sunburns.
Shea butter. Shea butter has been used for ages for its hair and skin benefits. You will often find it in cosmetics, moisturisers, shampoos, and more. That's because it is rich in fats that give it outstanding emollient and moisturising properties. It is also a powerful anti-inflammatory and antioxidant.
Vitamin E. If you read our ingredient lists, you'll notice that all our skincare and deodorant products contain vitamin E. Vitamin E is a natural way to support healthy skin. This essential, fat-soluble nutrient helps maintain your skin's health and youthful appearance, mainly through its anti-inflammatory properties.
Related Services We Provide to Natural Skin Care in NZ
At No3, we offer a wide range of natural skincare products, each one plant-based, vegan, ethically made, and high-quality. Some of the products we offer include:
Hand and Body Cream. Our Hand and Body Cream is a rich, moisturising, replenishing cream that is absorbed quickly into the skin. This natural hand cream is designed to hydrate all skin types and seal in moisture with natural, healthy ingredients, such as mango butter, sunflower oil, macadamia oil, and vitamin E.
Day Facial Cream. Start your day with this rejuvenating and uplifting day cream. This facial cream in NZ is made with gentle, nourishing ingredients, such as safflower, camellia, raspberry seed oil, cucumber extract, vitamin E, and essential oils.
Night Cream. Our rich, nourishing Night Cream helps your skin heal and renew itself while you sleep. This special cream penetrates your skin deeply with a unique blend of pomegranate seed oil, safflower, macadamia, marshmallow root extract, and more.
Makeup Melt. Melt away the day's impurities with our natural makeup remover. This organic makeup remover will even wipe away mascara with gentle, safe ingredients, including shea butter, sunflower oil, coconut oil, macadamia oil, vitamin E, and essential oils, all permeated with a delicious, mild rose scent.
Day Facial Oil. This nourishing oil feeds your skin with the vitamins and minerals it needs. The oils in this product, including Argan oil, jojoba, sunflower, and more, will not clog your pores; instead, they'll gently support all skin types – even oily skin – in just a few drops.
Night Facial Oil. Our Night Facial Oil is made from a blend of nourishing and deeply penetrating oils, such as organic macadamia, safflower, pomegranate seed, rosehip, and vitamin E. It can help strengthen your skin and encourage repair and regeneration for all skin types.
Calabalm. Last but not least, our Calabalm is an exceptional product made with a combination of organic shea butter, coconut oil, sunflower oil, chamomile, and calamine lotion to create the perfect soothing balm for sunburns, rashes, and other mild skin irritations.
In addition to our skincare line, we also offer a variety of other natural products, including natural Underbalm® deodorant that really works, delicately scented soaps, incredibly gentle products for babies, a special collection just for men, and even a natural dog wash for the furry members of your family.
What Sets No3 Apart Regarding Natural Body Cream and Other Cosmetics
Whether you're looking for a natural deodorant, skincare products for babies, men's skincare, or hand and body cream in NZ, No3 can help. Here are a few of the things that set us apart from the competition.
We are a family-owned and -operated business. We wanted to start a company that would allow us to spend quality time with our families – just like you want to do – and we consider our business and our customers part of our family. We offer personal service that large corporations can't provide, ensuring a pleasant shopping experience for you.
We offer products that we use ourselves. We believe that our Underbalm® is the best deodorant on the market, natural or otherwise, and our customers' comments reinforce this. We want the best for our family, and that means safe, natural, wholesome skin care products, so that's what we create and that's what we have to offer you.
All our products are plant-based. There are no animal products anywhere in our line-up; everything we offer is plant-based and vegan – and the very best quality possible. We believe that it's important to avoid animal cruelty and environmental harm, so we use ethically sourced ingredients and cruelty-free products through every step of our design and manufacturing process.
About No3
At No3, every product we develop serves an important purpose. We don't have time for fluff, and we don't think that you do, either. We have lovingly designed our entire line of products to be useful, high-quality, and suitable for people who care about the health of their skin. We have built our business and created our products honestly, with a philosophy of quality, trust, and exceptional service. Please contact us with any questions or to learn more about the No3 brand.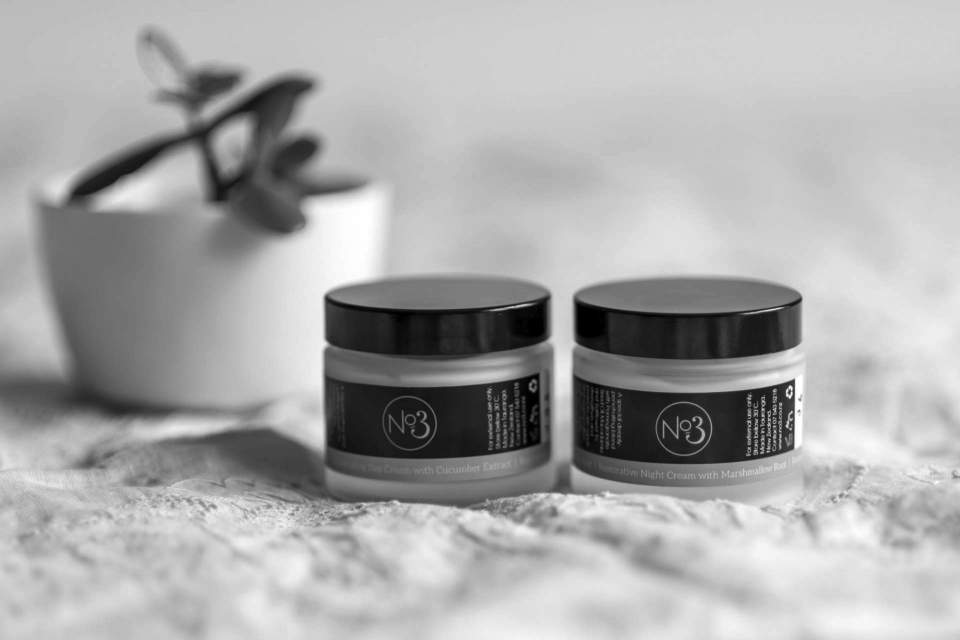 No3 Skincare has been designed with natural, organic ingredients that your face and body will love.