Skincare
Natural No3 Skincare for the Entire Family
There's no substitute for premium natural skincare. We design our products to be gentle and effective.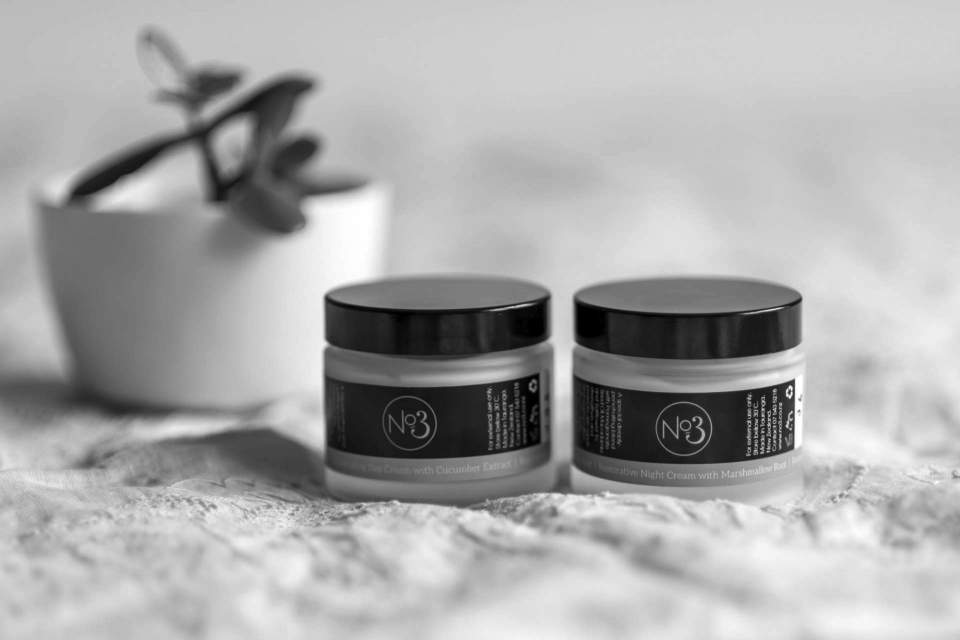 No3 Skincare has been designed with natural, organic ingredients that your face and body will love.
No3 natural products:
Suitable for all skin types.
No No3 products are tested on animals, ever.
These natural, vegan products contain plant-based ingredients chosen for their ability to hydrate, nourish, and protect your skin. Even people with sensitive skin often find that they can use our products with no trouble at all.
Best of all, our vegan skincare products offer all these advantages with no compromise when it comes to quality and effectiveness. These products provide excellent cleansing, soothing, and emollient qualities.
Benefits of the Ingredients in No3 Skincare Products
At No3, we carefully select each ingredient that goes into every product we formulate, to ensure natural and feel great on your skin. Here are a few of the special ingredients we use and why they matter.
Macadamia oil. Macadamia oil is a lightweight oil that is easily absorbed with no greasy feeling. It's rich in monounsaturated fatty acids, which are very moisturising and promote skin softening and regeneration. This oil also has important anti-inflammatory properties that help your skin look its best and stay its healthiest.
Cucumber extract. Think of cucumber extract as a superfood for your skin. The juice of the cucumber is made up mainly of proteins, lipids, vitamin C, and essential minerals, and it also features moisturising properties. Cucumber extract has an astringent effect, soothing and relieving puffy skin as well. It's also extremely gentle, even on the most sensitive skin.
Marshmallow root extract. Marshmallow root is an anti-irritant that's suitable even for people with extremely sensitive skin and allergies. This substance is known to offer relief from inflammation, itching, and redness thanks to its soothing properties. It is especially beneficial in skincare products designed to treat dry skin and sunburns.
Shea butter. Shea butter is widely used in cosmetics for its hair and skin benefits. It is rich in high-emollient fats.
Vitamin E. Vitamin E is a natural way to support healthy skin, and helps support the stability of cosmetics.
Related Services We Provide to Natural Skin Care in NZ
At No3, we offer a wide range of natural skincare products, each one plant-based, vegan, ethically made, and high-quality. Some of the products we offer include:
Hand and Body Cream. Our Hand and Body Cream is a rich, moisturising, replenishing cream that is absorbed quickly into the skin. This natural hand cream is designed to hydrate all skin types and seal in moisture with natural, healthy ingredients, such as mango butter, sunflower oil, macadamia oil, and vitamin E.
Day Facial Cream. Start your day with this rejuvenating and uplifting day cream. This facial cream in NZ is made with gentle, nourishing ingredients, such as safflower, camellia, raspberry seed oil, cucumber extract, vitamin E, and essential oils.
Night Cream. Our rich, nourishing Night Cream helps your skin heal and renew itself while you sleep. This special cream penetrates your skin deeply with a unique blend of pomegranate seed oil, safflower, macadamia, marshmallow root extract, and more.
Makeup Melt. Melt away the day's impurities with our natural makeup remover. This organic makeup remover will even wipe away mascara with gentle, safe ingredients, including shea butter, sunflower oil, coconut oil, macadamia oil, vitamin E, and essential oils, all permeated with a delicious, mild rose scent.
Day Facial Oil. This nourishing oil feeds your skin with the vitamins and minerals it needs. The oils in this product, including Argan oil, jojoba, sunflower, and more, will not clog your pores; instead, they'll gently support all skin types – even oily skin – in just a few drops.
Night Facial Oil. Our Night Facial Oil is made from a blend of nourishing and deeply penetrating oils, such as organic macadamia, safflower, pomegranate seed, rosehip, and vitamin E. It can help strengthen your skin and encourage repair and regeneration for all skin types.
Calabalm. Last but not least, our Calabalm is an exceptional product made with a combination of organic shea butter, coconut oil, sunflower oil, chamomile, and calamine lotion to create the perfect soothing balm for sunburns, rashes, and other mild skin irritations.
In addition to our skincare line, we also offer a variety of other natural products, including natural Underbalm® deodorant that really works, delicately scented soaps, incredibly gentle products for babies, a special collection just for men, and even a natural dog wash for the furry members of your family.
About No3
At No3, every product we develop serves an important purpose. We have have carefully designed our entire line of products to be useful, high-quality, and suitable for people who care about the health of their skin. We have built our business and created our products honestly, with a philosophy of quality, trust, and excellent service. Please contact us with any questions or to learn more about the No3 brand.